Highest Reputation for the Very Best in fabrication, Supply & Installation Services

Edmonton's FABRICATOR & Installer for Custom Architectural Panels
We believe in quality products, genuine service, and reliable work ethic. With over 20 years of experience, we know how to elevate your building and make it stand out. From commercial to residential and everything else in between, we strive to create a lasting impression that will stand the test of time. As one of the only companies in Edmonton that offer both fabrication, supply and installation services, we've built our reputation as being one of the best—and we intend on keeping it that way.

Aluminum Panels
Unrivaled construction quality and with the highest creative potential, this façade material is distinguished by its outstanding product attributes such as precise flatness, variety of finishes and colours, as well as excellent formability. Popular for its flexibility, low maintenance, sustainability, and durable characteristics, this product is also available in over-sized planks for your next renovation or construction project.
GET AN ESTIMATE
Commercial, INSTITUTIONAL, INDUSTRIAL & Residential Cladding
Our Work
As one of the few local companies that offer both fabrication and installation services, we take pride in each aspect of our work. That means we combine our industry expertise with your vision to produce a final result that is both valuable and beautiful. Whether it be commercial, institutional, industrial or residential, big or small, we believe that your project should be represented by the best.
We offer our clients a wide range of exterior architectural products and can install anything from basic to intricate custom-designed rainscreen systems. With our ability to fabricate various panel systems in house, we are able to maintain high quality control.
Holding ourselves to the highest standards, we are driven and inspired by your vision.

OUR COMMITMENT
We want to make your project look perfect.
We combine our years of cladding experience and industry knowledge to deliver the highest end result. We've built, and continue to build, our strong reputation of providing excellent products and services. The possibilities are endless when you incorporate our versatile designs for your next renovation and construction project.
The aluminum cladding is lightweight, and flexible, making it easy to fabricate and install.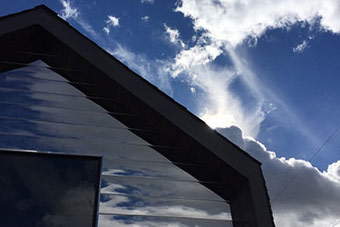 Highly resistant to corrosion, stains and rust, stainless steel sheets can be shaped to allow for different design effects and looks.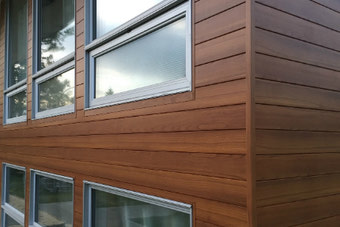 Durable and maintenance-free, longboard cladding is available in over 20 grain species and has over 60 solid colour options.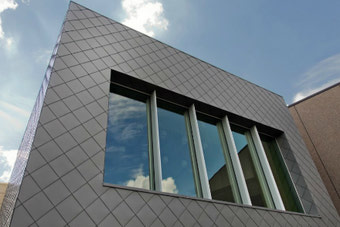 Fighting against outdoor corrosion, zinc shields itself by developing a protective layer that gives an exceptionally long life span of up to 100 years.
Corten steel is designed to for rust-like appearance on the surface, eliminating the need for paining and upkeep.